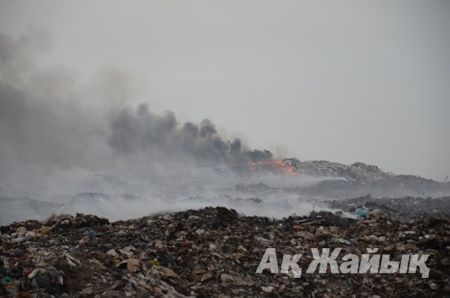 - On the night of Saturday a wind from Atyrau Refinery (south east of Atyrau) brought some poisonous gas. I had a headache. So nice weekend was spoilt, complains Tilek, a resident of the Avangard-4 Municipal District.
On Monday morning we received several calls from the Geolog suburban area residents as well - they were complaining about asphyxiating smoke coming from the city landfill (north west of Atyrau) caught in fire a day before.

We failed to obtain any comments from Atyrau Refinery. Only Deputy Director of Communal State Enterprize SpetsAvtoBaza (Special Vehicles) Zaurbek JAILYBEKOV responded assuring us that the fire at the landfill would soon be extinguished. 4 dump trucks, 2 bulldozers and a loading tractor have been allocated to bury the fire.

- When cold weather comes the number of fires at the waste dump will reduce, promised Mr Jailybekov.
According to KazGidroMet, the republican weather forecast agency, on the night of September 29-30 (Saturday-Sunday) a gentle 2m/s breeze blew from south east. The only industrial facility in that area is the Atyrau Refinery.
Given this, the Environmental Department fixed no emissions. According to the head of inspection of the environmental department Kuandyk YESMUKHANOV, in accordance with the law on controlling supervision, the department needs to receive a written application from city residents in order to audit any enterprise - either the landfill or the refinery, or the fact should be published in mass media.
On October 2, the smoke from the dump grew thicker covering the sky over city districts of Privokzalny, Almagoul and private housing areas on the way.

Mr Jailybekov explained that another sector of the dump has ignited. Now the specialists need to accomplish two tasks - extinguish the fire and find a place to dump newly arriving waste away from the fire epicenter.

By the way, he added that a group of foreign ecologists visited the dump on October 2. They promised to help develop a landfill utilization program, but Mr Jailybekov flatly refused to give their names.
By Murat SULTANGALIYEV

October 2 2012, 15:50