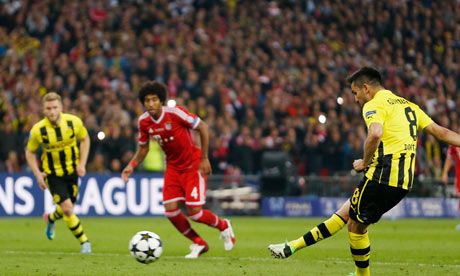 lkay Gundogan equalises for Borussia Dortmund in the Champions League final against Bayern Munich. Photograph: John Sibley/Action Images
It was a night of outstanding drama, fully reaffirming all the eulogies about German football, and when it was all done Bayern Munich had won their fifth European Cup and we were reminded what a brutal business football can be when it comes to making losers of heroes.

For everything wonderful that had occurred on the pitch, some of the lingering memories came afterwards as Bayern's victorious players soaked in the euphoria of Arjen Robben's late, decisive goal and, simultaneously, the players from Die Schwarzgelben were on the floor, many in tears, with Jürgen Klopp watching from the side, standing still for possibly the first time on the night. His players had given everything, as they have throughout the competition. They had played with drive and ambition, utterly devoted to the idea of returning this trophy to Westphalia, and what a terrible pity it would be if a side with this talent are to be broken up.

Yet this is some Bayern team and they deserved their victory because of the way they gradually asserted control when the goals arrived in the second half. It was still a night when Manuel Neuer was often Bayern's outstanding performer, particularly in the first half, but the same could also be said of Dortmund's goalkeeper, Roman Weidenfeller. Klopp's men were being pinned back in the 10 minutes or so preceding Robben's goal and, as well as some superb goalkeeping, they had been indebted to a quite extraordinary goal-line clearance from Neven Subotic.

Dortmund, so dignified in defeat, will probably always wonder what might have happened if Dante had been sent off for the challenge that gave Ilkay Gundogan the chance to equalise from the penalty spot, eight minutes after Robben had set up Mario Mandzukic for the opening goal. They will reflect on the opportunities they passed up early in the match, when Neuer was much busier than might have been anticipated, and when the anguish has subsided a little maybe they will remember the ovation from both sides of Wembley that marked their epic journey to this final, starting from a position of near-bankruptcy only eight years ago.

Bayern, however, had worn them down and it culminated in that moment, after 89 minutes, when Robben set off through the middle, trying to get on the end of a backheel from Franck Ribéry, and benefited from a lucky ricochet off one of the defenders in close proximity. Suddenly Robben was free, bearing down on goal with only Weidenfeller to beat. Twice in the first half he had been in a similar position and come off second best. This time, he took his shot early, stabbing it to the goalkeeper's left and it was not long afterwards that he and his team-mates could be seen giving the bumps to a little white-haired man by the name of Jupp Heynckes.

Bayern have moved level with Liverpool as the joint third most successful club in the history of this competition, behind Real Madrid's nine wins and Milan's seven. In the process, they have surely killed off all the allegations about this being a team who had forgotten how to win this competition, on the back of five defeats in their previous six finals.

They had to withstand some prolonged pressure at the start but there was always that sense Dortmund would regret not putting away one of those early chances. The snapshot from Jakub Blaszczykowski, perhaps, after a quarter of an hour, or the opportunity that fell to Robert Lewandowski after 34 minutes. As Klopp acknowledged, their problem was the same one Bayern had faced for long parts of the match: they were facing a goalkeeper at the top of his game.

The first half had flowed nicely, initially with Dortmund in control, then Bayern having a turn, with sporadic bursts of attacking football from both sides. It was after the interval that the game fully ignited.

Just before the hour, Robben wandered over from his starting position on the right to double up with Ribéry on the left. As Ribéry ran at a clutch of defenders, Mandzukic would have been offside if the cross had reached him directly. Instead, Ribéry clipped the ball into Robben's path. Weidenfeller was forced to leave his line and that left the goal exposed as Robben swerved to the goalkeeper's left and turned the ball across the six-yard area. From a yard out, Mandzukic could hardly miss.

Dante, already booked, should have been sent off for the carelessly high, studs-up challenge that hacked down the excellent Marco Reus for Dortmund's penalty. It should have been a mandatory second yellow card from the Italian referee, Nicola Rizzoli, and that oversight had considerable consequences bearing in mind the way an equaliser against 10 men would have swung the game in Dortmund's favour. As it was, Gundogan's penalty was expertly placed to Neuer's left without shifting the sense that Bayern had started to look the more accomplished team.

The drama was almost unremitting from that point onwards, not least that moment when Subotic flung himself full length to hook Thomas Müller's effort off the line, right beside the post as Robben came in from the other side. That moment alone epitomised Dortmund's efforts.

As well as thwarting Robben, Weidenfeller had tipped a Mandzukic shot on to the crossbar in the first half. Now he had to keep out left-foot efforts from David Alaba and Bastian Schweinsteiger. The momentum had been turning against Klopp's men and it culminated in that final surge from Robben, a prod of the ball that took it over the line almost in slow motion, and Bayern had been reunited with the trophy they cherish above all.
May 26 2013, 14:54