By Laura Suleimenova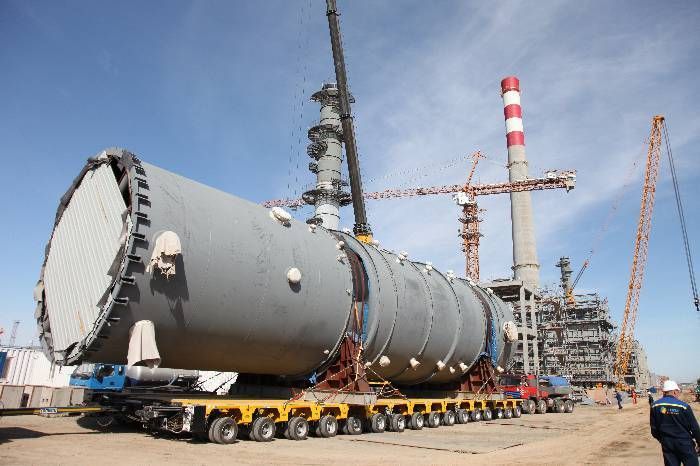 C602 A/B modular columns' delivery to Atyrau Refinery on May 12, 2013. Photo:www.anpz.kz
Early Sunday morning on May 12, people residing along Azzatyk avenue near Selstroi city district were woken up by clattering noise of vehicles transporting bulky industrial modules. Later we found out that it was new equipment delivered to Atyrau Refinery, to be more exact, to the Aromatic hydrocarbons production complex (KPA).
Atyrau Refinery press service confirmed that they started to deliver bulky and auxiliary equipment to the plant.
Currently construction and assembly activities are ongoing at 17 construction sites. The construction activities are performed by Chinese Sinopec Engineering company with participation of local contractors.
- On May 12 we received two С602 А/В modular columns, each weighing 292 tons. Modules were constructed by Chinese company in Zhangjiagang. They were delivered to Atyrau river port from Shanghai port via Mariupol and Aktau. It took four hours to transport the modules from Atyrau port to the refinery, the press service said.
Sure, during transportation of such bulky cargo the problems could not be avoided. In some places obstructions, such as high voltage lines, were lifted up with the help of Atyrau-Zharyk (power company) or even cut in order to allow the equipment to pass, but after that the power lines were spliced. Escorted by traffic police, modules were delivered on two powerful tow trucks and one semitrailer. The transporters were two freight forwarders and one "Saga Terminal Logistics" subcontractor. The installation and assembly works will start after May 20.
- In the near future other columns are expected to arrive to Atyrau Refinery, but they will be delivered in parts. We will assemble those on site and their weight is even bigger compared to those that have arrived on May 12. Kazakh companies are preparing to do a responsible work: to assemble a complex and heavy equipment. The assembly works will be performed as per the current RoK technical requirements, Atyrau Refinery press service informed.
May 15 2013, 11:49