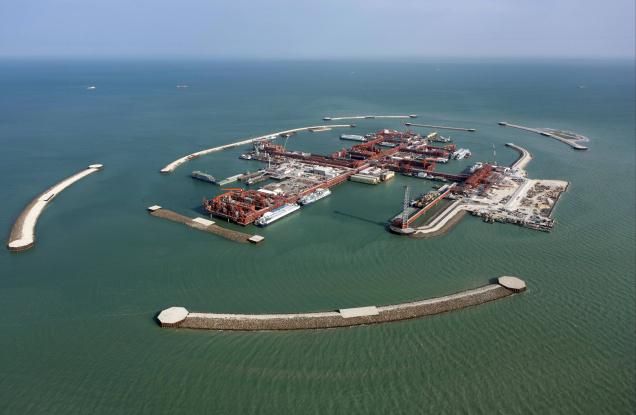 This August 2012 photo provided by North Caspian Operating Company, NCOC, shows Kashagan offshore oilfield in western Kazakhstan.Oil and Natural Gas Corp's (ONGC) $ 5 billion deal to acquire US energy giant ConocoPhillips' stake in a Kazakhstan oil field looks set to fall through as India hasn't been able to convince the Central Asian nation to approve the transaction.

Kazakhstan is considering exercising its pre-emption rights to buy ConocoPhillips's 8.4 per cent stake in the country's biggest oilfield, Kashagan, before selling it to a Chinese firm, sources privy to the development said.

Industry insiders say the blame for falling of ONGC's biggest acquisition may rest with the Indian government which unlike China, has not engaged with Kazakhstan at the highest levels to push the deal through.

While ONGC had in November-end struck a deal to buy out ConocoPhillips in Kashagan, the Cabinet has not yet approved the transaction. Oil Ministry had in January floated a Cabinet note on the issue but it hasn't come before Cabinet till now.

Besides, in absence of the Cabinet nod, Prime Minister Manmohan Singh has not engaged the President of Central Asia's largest oil producer and the second-largest post-Soviet producer after Russia.

On the other had, China received Kazakh President Nursultan Nazarbayev with much fanfare last month, immediately after which the Central Asian nation's Oil Minister Sauat Mynbayev stated that "there is a possibility" of China buying into Kashagan.

Sources said Prime Minister intends writing to Nazarbayev on the deal this month but it may be too little too late.

They added that last week when External Affairs Minister Salman Khurshid on a visit to Almaty, raised the issue of approval for the deal, he was politely told to look beyond Kashagan as well.

On his visit to Beijing, Kazakh President met his Chinese counterpart Xi Jinping as well as the head of China National Petroleum Corp (CNPC) on April 6. Kazakhstan's KazMunaiGaz and CNPC agreed to expand oil pipelines from Kazakhstan to China.

Sources said Kazakh government is ready to exercise an option to step in and buy ConocoPhillips stake in place of ONGC. Partners in Kashagan fields have been sounded out of bringing one of China's state-run oil firm as a partner.

Kashagan, a Caspian Sea field set to produce 370,000 barrels of oil a day, is to start output by September, eight years later than initially planned and with costs nearing $ 46 billion, double the early estimates.

According to Kazakh law, the government has the right to buy any oil asset for sale in the country at the price agreed on by the buyer and seller.

While ONGC got nod of the partners for acquisition of ConocoPhillips stake at end of January, Kazakh government has time till July to approve the transaction.

Exxon Mobil, Royal Dutch Shell, Italy's Eni, Total of France and KazMunaiGaz each hold 16.8 per cent of Kashagan. Japan's Inpex Corp has 7.56 per cent.
May 14 2013, 11:30