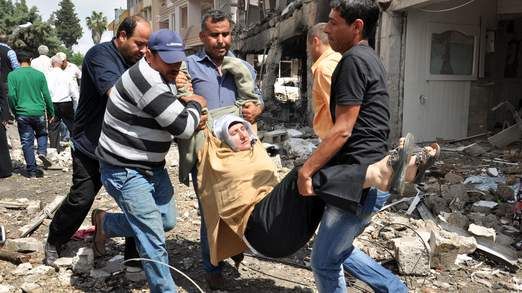 Turkey says it reserves the right to take "every kind of measure" after car bombs kill more than 40 people near the Syria border.
The car bombs ripped into crowded streets near the town of Reyhanli's shopping district on Saturday afternoon, scattering concrete blocks, smashing cars and destroying restaurants and cafes.
There was no immediate claim of responsibility but President Bashar al Assad's government was the "usual suspect", Turkish Deputy Prime Minister Bulent Arinc said.
More than 140 people were wounded, and many were in serious condition, officials said.
Foreign Minister Ahmet Davutoglu said Turkey reserves the right to take "every kind of measure", but he said he saw no need for an emergency meeting of Nato - which would be the first step towards involving the alliance in any possible response.
The US strongly condemned the attacks and vowed support in identifying those responsible.
Secretary of State John Kerry said: "We stand with our ally, Turkey.
"This awful news strikes an especially personal note for all of us given how closely we work in partnership with Turkey, and how many times Turkey's been a vital interlocutor at the centre of my work as Secretary of State these last three months.
Photojournalist Bradley Secker, in Reyhanli, told Sky News that he had seen two cars with Syrian number plates in the wreckage.
"One is upside down and one people are attacking," he said. "The police and the Turkish military have been very cautious about who they are letting into the scene and the Syrians have feld back to their houses."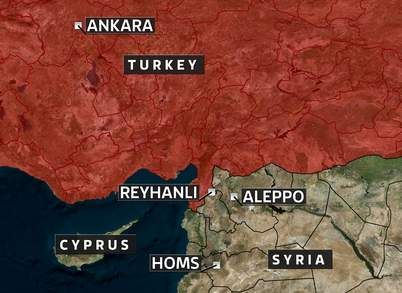 Reyhanli, which has a population of about 60,000, lies just a few miles from the Cilvegozu crossing opposite Syria's Bab al Hawa border post.
The border area has witnessed a number of attacks as the conflict in Syria has spilt over into Turkey, a one-time Syria ally but now one of its harshest critics.
In February, Turkey blamed Syrian intelligence agents for a car bomb attack at Cilvegozu that killed 17 people and wounded another 30.
Four Syrians and a Turk are in custody in connection with the February attack.
Most of the victims of that blast were Syrians who were waiting to be processed before they entered Turkey and a Syrian opposition faction said the blast narrowly missed 13 leaders of their group.
Turkey has taken in around 400,000 refugees as well as Syrian army defectors. It has repeatedly called on the international community to act on the crisis.
Mr Davutoglu said immediately after Saturday's attack that the country would take necessary measures to protect itself.
He said: "No one should attempt to test Turkey's power. Our security forces will take all necessary measures."
Turkey's Prime Minister Tayyip Erdogan said he had not ruled out that the attack could be related to peace talks with Kurdish rebels.
Kurdish militants, who recently agreed a ceasefire with the government, have carried out such attacks in the south of the country.
The opposition Syrian National Coalition blamed Mr Assad's regime for the twin blasts.
It said in a statement: "The coalition sees these heinous terrorist acts as an attempt to take revenge on the Turkish people and punish them for their honourable support for the Syrian people, including their welcoming of Syrian refugees who have fled the regime's crimes in their villages and cities.
May 12 2013, 15:06