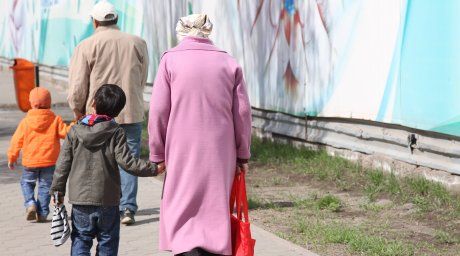 Photo: Marat Abilov The adoption of the law, unifying a retirement age for Kazakhstan women, can be postponed until 2018, reports KazTAG with reference to informed sources.
"The bill ("On provision of pensions in RoK" and a package of accompanying amendments - KazTAG), most likely, this year will not leave the walls of the Parliament. The adoption of this law is planned to be postponed for four years, till 2018", - said the source to KazTAG agency.
According to the source, the public perceives "rather negatively" the increase of a retirement age for women till 63 offered by law developers.
"It is assumed that the law will be returned for further development. There are such mechanisms", - noted the source.
The interlocutor added that data on budgetary expenses that the Parliament has at this stage, allows concluding that unification of a retirement age of women is "not the sole solution".
To recall, the specified bill and a package of amendments to it were presented by the government in the Parliament Senate on May 2.
"There are calculations, including the budgetary expenses which would be if we didn't lift this age during 10 years. We will show those calculations to you. We should all be convinced that this is that only decision that has to be accepted. It is, certainly, a sensitive and emotional issue. We see the progress of discussion, but the government doesn't see other ways out of this situation and, therefore, we are asking to review this issue", - said deputy prime minister Kairat Kelimbetov, addressing the senators, during the presentation of the bill on Thursday.
As it was reported, on April 24 the Majilis of RoK Parliament approved the bill "On Provision of Pensions in RoK", as well as the package of accompanying amendments, in the second reading.
The document provides unification of a retirement age of women. So, according to the bill, the increase of a retirement age will be carried out gradually - within 10 years, increasing a retirement age for 6 months every year, starting January 1, 2014.
The bill provides for establishment of the Uniform Accumulative Pension Fund (ENPF) on the basis of GNPF fund.
May 3 2013, 15:14