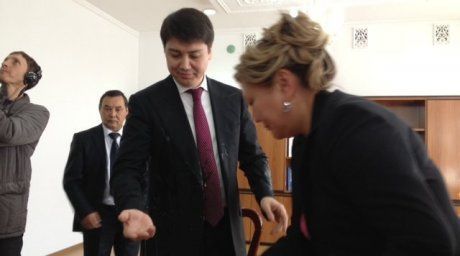 Minister Abdenov after the incidentKazakhstan's minister of labor and social protection Serik Abdenov was pelted with eggs while addressing the government's controversial pension reforms at a lively press conference in Almaty, reports Eurasianet.
The minister got two eggs in face from a man chanting "You are introducing an antinational reform (...) Stop shaming Karaganda and the whole country." The man later named himself as Andrei Tsukanov, a communist.
As an explanation for the incident, he said Abdenov is just flouting everybody.
To recall, the bad fame came to the minister after the words he previously said in front of audience:
Asked why women should work for five more years, Abdenov got a little lost for words. "You have to work and work," he said, to guffaws of laughter from the audience," because, my dear fellow countrymen, because, because."

At this point the laughter turned into an angry buzz from the audience, but Abdenov – the cabinet's youngest member at age 36 – persevered: "Why should we be thinking about a pension aged 50? When we retire we will simply catch more sicknesses. We will get old more quickly. That's for sure."

That turned Abdenov into an "Internet star," as KTK TV put it.
In a show of protest rare for Kazakhstan, Abdenov was targeted as he attempted to explain why the government is seeking to raise the pension age for women from 58 to 63 over the next decade.
The reform, which would bring the female retirement age into line with the male one, has passed its first reading in the lower house of parliament (with several more stages to go before it becomes law), raising a storm of controversy.
Tsukanov was detained and faces a fine or a 10-day prison sentence on hooliganism charges, Almaty police told Tengri News.
Abdenov later said he has no intention to lay a claim against Tsukanov.

"The fact that as a reply to people's questions about the new reform he says "because, because" means he is playing up everybody in here. He knows nobody will say a thing to him and whatever the people's opinion about the reform is, it will be implemented anyway and the only thing left to do now is to arrange a scandal around him..."
April 26 2013, 15:00