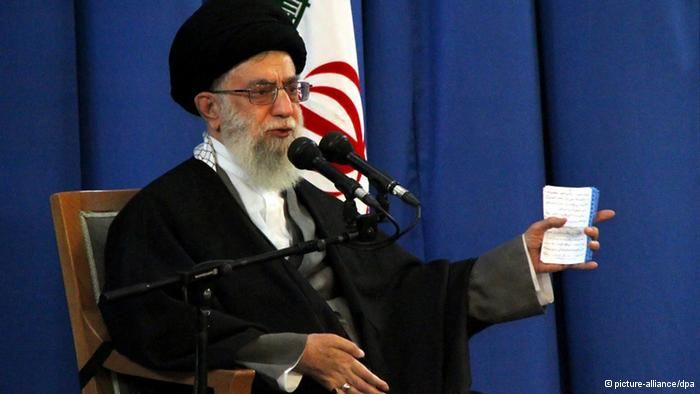 Canadian authorities have alleged that two terrorism suspects arrested in Montreal and Toronto were receiving support from al Qaeda elements in Iran. But Tehran and al Qaeda have historically had a hostile relationship.
Raed Jaser and Chiheb Esseghaier have denied charges that they sought to derail a passenger train in Toronto, in what Canadian authorities described as the "first known" al Qaeda plot on the North American nation's soil.

"The conclusions were made based on facts and words which are only appearances," said 30-year-old Esseghaier in a Montreal court on Tuesday.

And in Toronto, lawyer John Norris said that 35-year-old Jaser rejected the allegations and would vigorously defend himself against them.

Canadian authorities had alleged that the two men were receiving support from an al Qaeda cell in Iran. Although Ottawa made clear there was no evidence that the aborted plot was state sponsored, Tehran was quick to deny any connection to the story at all.

"Iran's position against this group [al Qaeda] is very clear and well known," Alireza Miryousefi, a spokesman for the Iranian delegation to the United Nations, told the Associated Press in an email late Monday. "[Al Qaeda] has no possibility to do any activity inside Iran or conduct any operation abroad from Iran's territory."

"We categorically reject any connection to this story," he wrote.

Although Shiite Iran and Sunni al Qaeda do have a history of interaction, their relationship has never been an alliance, but has instead been plagued by sectarian and ideological differences.
"Objectively the two despise each other," Barbara Slavin - author of "Bitter Friends, Bosom Enemies" and a senior fellow at the Atlantic Council - told DW. "Al Qaeda doesn't even consider Iran a Muslim country in some ways. They reject Shiism as not even Islam. Certainly the most zealous members of al Qaeda and al Qaeda-type groups reject Shiites in that way."

US allegations of financial ties

The Canadian plot is not the first time allegations have surfaced that al Qaeda members are operating from Iran.

In July 2011, the US Treasury Department even accused Iran of working with al Qaeda, claiming that the Islamic Republic was allowing the Sunni terrorist group to funnel money from the Persian Gulf across its territory to operatives in Afghanistan and Pakistan. The Treasury sanctioned six individuals who were allegedly part of the illicit financial network, according to the New York Times.

"This network serves as the core pipeline through which al Qaeda moves money, facilitators and operatives from across the Middle East to South Asia, including to Atiyah Abd al-Rahman, a key al Qaeda leader based in Pakistan," the Treasury said in a press release at the time.

Antagonistic relationship

But after analyzing documents seized in Osama bin Laden's compound in Abbottabad, Pakistan, the Combating Terrorism Center (CTC) at West Point came to a very different conclusion about al Qaeda-Iranian ties in a May 2012 report.

The CTC said that "the relationship is not one of alliance, but of indirect and unpleasant negotiations over the release of detained jihadis and their families, including members of bin Laden's family."

According to Slavin, many of those jihadis and bin Laden family members were detained by Tehran after fleeing the 2001 US-led invasion of Afghanistan. And following the 2003 invasion of Iraq, the Islamic Republic even offered to hand over detained al Qaeda members in exchange for senior leaders of the Mujahedin-e Khalq (MEK), an Iranian opposition group based in Iraq.

"The US considered it, but the Bush administration - in its infinite stupidity - decided not to, because members of the Bush administration decided it wanted to use members of the MEK against Iran at some point," Slavin said. "So two can play at this game of cultivating terrorist ties and trying to use them for their own purposes."
Conflicting Interests
Shiite Iran and Sunni al Qaeda interests are largely at loggerheads. While Iran's closest ally in the Mideast is embattled Syrian dictator Bashar al-Assad, the al Qaeda-linked al Nusra Front is actively fighting for his overthrow. And Tehran is a supporter of Prime Minister Nouri al-Maliki's Shiite-led government in Iraq, which al Qaeda seeks to destabilize.

According to Bernd Kaussler, an expert on Iran at James Madison University in Virginia, Iranian cooperation with al Qaeda or support for a plot such as the one in Canada would be "out of tune with what Iran had done recently."

Militants fighting for the rights of Iran's disenfranchised Sunni Muslim population in the Sistan and Baluchestan province regularly carry out attacks against the Islamic Republic. And Tehran historically was the sworn enemy of the Taliban in neighboring Afghanistan.

"Iran almost went to war with the Taliban, who have been allied with al Qaeda, before the invasion of Afghanistan in 2001 by NATO," Kaussler said. "So there's no love lost between Iran and al Qaeda."
Deutsche Welle
April 26 2013, 10:17