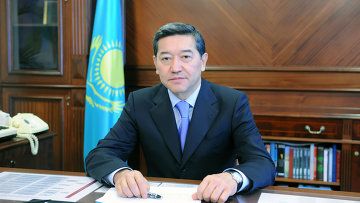 Photo courtesy Official website of Kazakhstan President On September 24, Serik Akhmetov has been appointed prime minister. His candidacy was proposed by the President Nazarbayev and unanimously supported by the members of Majilis of the RoK Parliament, according to Novosti-Kazakhstan citing an informed source.
His predecessor Karim Massimov who was relieved from this post will head the presidential administration.
In various years Akhmetov used to serve as the First Deputy Akim of Astana, head of State Inspectorate, Organizational and Control Work and Staffing Policy Directorate of the presidential administration, chairman of the board of Atamaken Union of Kazakhstan Business People and Employers, Minister of Transport and Communications, Deputy Prime Minister. In November 2009 he was assigned governor of Karagandy Oblast.
From January to September 2012 he has been the First Deputy Prime Minister of the Republic of Kazakhstan.
September 24 2012, 16:56