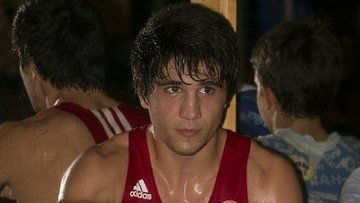 A promising Russian boxer said Tuesday a gang of men beat him up in a Kazakh nightclub after a competition and broke his jaw.
Light heavyweight Soslan Asbarov, 20, was celebrating winning a medal with other young fighters from the Russian amateur national team in Uralsk, Kazakhstan, when an argument began with several men.
"It's hard for me to speak because my jaw was broken during the fight," Asbarov told R-Sport. "They ganged up on me in a crowd, seven or eight people."
Asbarov's father Sultangusein provided further details: "Our guys just went out after the competition. The incident happened in a local club. After some locals touched Soslan's shoulder, it turned into a verbal argument and then a fight."
"As a result, he suffered the most. The others escaped with minor injuries."
A doctor who treated the boxer said he was badly hurt but on the road to recovery.
"He presented in a serious condition with concussion, two jaw fractures. We carried out an operation, now he's is a condition of intermediate illness," surgeon Amangeldy Kayupov was quoted as saying by Kazakhstan's Uralskaya Nedelya newspaper.
However, the fighter's father insisted his son had not been concussed and had remained conscious throughout his ordeal.
Asbarov's trainer Nurutdin Amaev told RIA Novosti the figher would be out of training for two months.
Local police stopped a car Monday and arrested two men suspected of involvement in the attack on Asbarov, Kazakhstan media outlets reported, citing eyewitnesses.
The attack reportedly occurred in the early hours of Saturday morning, but none of various reports in the local media offered an explanation for why it had taken so long to come to light.

Asbarov, from Russia's southern region of Dagestan, had been competing in an international tournament in Uralsk under the auspices of the Kazakhstan Boxing Federation, winning silver in his weight category.
April 9 2013, 16:36