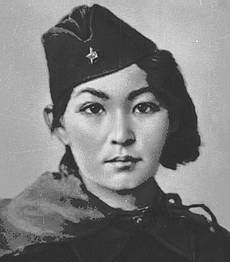 Russian searchers voiced a sensational statement - Aliya Moldagulova, a sniper killed in action in January 1944 on the Eastern Front of World War II and posthumously awarded the distinction Hero of the Soviet Union the same year, was not buried in the village of Monakovo of Pskov Oblast, NW Russia, as was believed for the past 70 years, writes Diapazon.
Officers of the museum named after her in Aktobe claim such a thing could not happen and the case needs thorough checking.
Russian scouts say the real place where Moldagulova rests today is likely in the forests or impassable marshes.
There is a mass grave, says the head of Aktobe Oblast Culture Department Nazira Tabildinova. Scouts of Pskov are referring to a some newspaper cutting, which tells about a girl with a similar family name.
According to the museum employees, Aliya's papers have been retrieved from the archives of Pskov and the conclusion is she was buried in 300 meters from the village of Pichevka and the bones resting in Monakovo belong to someone named Anya Magdagulova.
The Memorial website, a WWII participants database, reads "Anya Magdagulova" was born in Aktobe.
Museum in Aktobe presumes Aliya's surname could have been written down in accordance with Russian pronunciation and with a Russian first name.
"Experts examined the burial site in 1950s. There is a memorial standing for a half a century which we visited many times. We have a paper stating Aliya was buried by her commander in Monakovo. Even if the place is wrong, why are they raising such a noise? She has been buried in Pskov Oblast - this is important. We still can't contact Pskov scouts," said holders of Aliya Museum in her home town.

To figure out the situation, members of Kazakhstan's Combat Brotherhood Association have departed for Pskov.


April 3 2013, 13:50