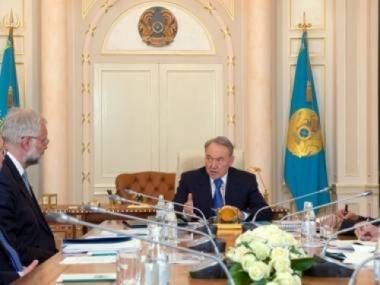 Grigory Marchenko and President Nazarbaev The President Nursultan Nazarbayev held the meeting concerning the report of the National Bank of Kazakhstan for 2012 on Friday, the press service of Akorda reports.
The meeting was attended by the Head of the Presidential Administration Karim Massimov, Chairman of the Kazakh National Bank Grigory Marchenko, the Deputy Prime Minister Kairat Kelimbetov and the Deputy Head of the Presidential Administration Sultanov.

"Considering the traditional annual report on the activities of the National Bank we can see that all the macroeconomic indicators of the country are normal. The observed economic growth by six per cent, when the world is in financial turmoil, can be considered optimal. Inflation is not out of range, the currency was stable, while lending to the economy and the capitalization of banks grow," the President said.

"Stable economic growth remains a major challenge. The Government and the National Bank should work to the economic growth rate is not reduced, and these require a coordinated proposal. In addition, we have to improve the pension system, in particular, establishment of a single pension fund," Nazarbayev added.

Marchenko reported on the activities of the National Bank to ensure price stability, a new transmission mechanism of monetary policy and further improve its instruments of international diversification of assets, and also talked about the issues of foreign borrowing of banks.

Following the consideration of the report, the President of Kazakhstan gave specific guidance on the need to keep inflation in the forecast corridor and further development of the financial sector.

In addition, the President instructed together with the Government to develop proposals for a centralized service of payment cards based on the single operator, and enhance work on the SES formation in the interests of Kazakhstan.
March 30 2013, 13:05