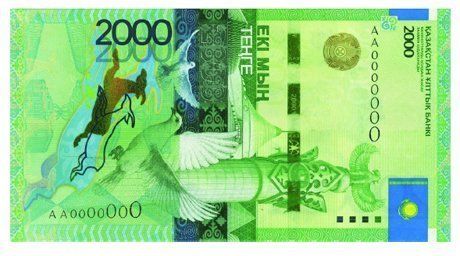 Kazakhstan National Bank has issued a 2,000-tenge banknote with a new design, Tengrinews.kz reports citing the Bank's press-service.

The banknote has been issued on March 29 and is made on paper 139mm long and 73mm wide. The prevailing colors of the front side include dark and light green and most of the images are vertical. The right side of the banknote has a image of Kazakh Eli monument and flying pigeons on the lower central part. The lower part of the banknote has an image of saiga made with optically variable ink. Its upper part has the state coat of arms and the flag of Kazakhstan. The banknote's value is printed in numbers in the bottom and in the upper part, and written in letters in Kazakh in the middle of the left side. KAZAKHSTAN ULTTYK BANKI (Kazakhstan National Bank) is written in the upper left corner.

The prevailing colors of the reverse side are also dark and light green, while the images are horizontal. An outline of Kazakhstan map with Irtysh river is printed in the center of the banknote. The right part contains a 13mm holographic line with an image of the note's value, a yurt and a fragment of the flag of Kazakhstan. The value of the banknote is also printed in the upper left, upper and lower parts of the noted. The bottom part contains the value in writing. KAZAKHSTAN ULTTYK BANKI is written in the upper central part.
March 29 2013, 16:34