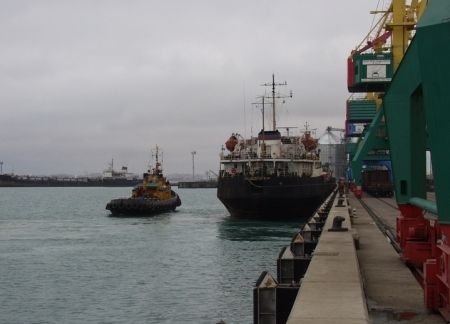 Aktau Sea PortKazakhstan will expand its ferry fleet. According to Askar Zhumagaliyev, the RoK Minister of Transport and Communications, there is currently a need for expansion of the ferry fleet and increase of the volume of transported freights, as local shipping companies transport only oil and the bulks of dry goods and ferry freights are transported by foreign companies, reads the Minister's report.

It is expected to expand Aktau seaport, to increase its dry-cargo part at least by 2.5 mln tons per year. The preparation of feasibility study is ongoing.

It is scheduled to purchase two ferries in the nearest future for transportation of dry goods.

"We need to buy ships for transportation. We need ferries and bulk carriers. In line with the President's instruction, two ferries will be bought. They will cruise between Aktau, Baku and Makhachkala transporting dry goods," said Askar Zhumagaliyev.

According to the Minister, Amendments to several legislative acts of Kazakhstan on transport issues update the existing legislation on shipment safety and establish conditions for development of human potential.

"We have a big deficit in sea transport personnel, especially at managerial positions. Local professionals make only 28%. The sea academy that was opened in Almaty last year, has currently 61 students. We have enrolled a new group of students from Aktau. We need to adopt the law ensuring that such education has to be provided by certified education facilities only, as we have to be sure that our sea experts are trained well. The cadre personnel will be trained gradually and we will focus on that," added the Minister.
WKT
March 27 2013, 12:32