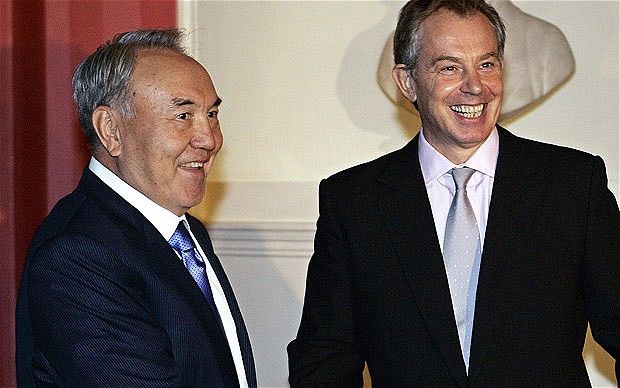 Tony Blair with the President of Kazakhstan, Nursultan Nazarbayev, inside 10 Downing Street in 2006Tony Blair is helping Kazakhstan reform its brutal police force after widespread concern that it is at the forefront of human rights abuses in the country.
The former prime minister agreed to help as President Nursultan Nazarbayev attempts to quell international criticism of a massacre of oil workers which threatens his hopes for a new international trade deal.

Police and special forces shot and killed 15 striking oil workers and wounded more than 100 during an industrial dispute in Zhanaozen, in the south west of the central Asian country.

Mr Nazarbayev had praised their actions in "restoring order" before video evidence emerged on the internet showing the police massacring unarmed civilians.

The incident, in December 2011, led to criticism from international human rights groups and, crucially, the European Parliament, threatening to undermine his plans for membership of the World Trade Organisation, which would mean lower customs tariffs and a place at the international negotiating table.
The country is a key client of one of Tony Blair's multi-million pound consultancy practices, with a contract reportedly worth £16 million. After the massacre, the president asked for help in managing the crisis.
Mr Blair did not take part in discussions directly but last March, as MEPs put the finishing touches to a resolution urging "the Kazakh authorities to make every effort to improve human rights" and "strongly condemning the violent crackdown by police against demonstrators", the former prime minister sent his most trusted long term adviser, Jonathan Powell, the ex-Downing Street chief of staff, to Astana, the Kazakh capital.

He arrived as the EU linked its demands for Kazakhstan to "rapidly improve their respect for the freedom of assembly, association, expression and religion" to "the road map for WTO accession".

Mr Powell, the man who negotiated with the IRA and helped shape the dossier of evidence for the first Iraq war, now runs Inter Mediate, a charity addressing "poverty, disease and economic stagnation that are the inevitable by-products of violence and political unrest".

In Kazakhstan, he found himself sitting down with the hard line interior minister, attempting to reform the repressive police force to satisfy the EU and those backing Kazakhstan, with its rich mineral deposits and £27 billion of foreign investment, in its bid to become a full trading partner with the West.

In the meeting Mr Powell and the minister, Kalmukhanbet Kasymov, were said to have "exchanged opinions on … the improvement and democratisation of the police". Sources said that the consultation covered all aspects of policing including the Interior Ministry's special forces troops – modelled on the Soviet system – which were deployed in Zhanaozen.

A Kazakh government spokesman said they also discussed "regulation of police work, training, upgrading equipment".

Mr Powell was most recently in Astana last month talking to President Nazarbayev's advisers but is not thought to have played any further direct role in police reform.

But there have been at least three further sessions with Mr Blair's team – which includes a Harvard educated lawyer and a former UN human rights official – including one at the offices of Blair Associates in Astana, on fighting crime and "maintaining public order and security".

A Kazakh source said the sessions were "full of mutual understanding and efficient dialogue".

But last night this was dismissed as a "smokescreen" by Kazakh opposition leader Zhambolat Mamai, who has led calls for Mr Blair to resign from his advisory role. He said that the trigger for Mr Blair's involvement was the threat from the European parliament and Western governments.

"They invited these experts and are now able to say work is going on, they are improving everything, but in fact they are creating a smokescreen," he said.

He added: "The Interior Ministry is very much in control of the situation in Kazakhstan, and believe me they will never let these Western consultants get close to understanding the real problems of our system."

The December 2011 violence erupted after the government ignored protests from striking oil workers over pay and conditions. Police claimed that they were defending themselves until internet footage backed witness accounts of the security forces shooting indiscriminately at unarmed demonstrators.

Earlier this year Human Rights Watch said that in 2012 Kazakh authorities intensified "persecution of outspoken government critics" without having "seriously tackled long standing, grave human rights abuses".

A spokesman for Mr Blair's office said: "As is well known, we work to support the government of Kazakhstan on key areas of social, political and economic reform.

"This has included discussing aspects of police reform – something which was publicised by the government at the time.
"This work is entirely in line with the work of other international organisations and Western governments and follows the direction which the international community wants Kazakhstan to take."

He added: "Zhanaozen was a tragedy, but there are indications that the government is addressing the underlying causes. This includes police reform, plans for local government reform and economic measures to help improve the lives of people living in these types of towns, which are a hangover from the Soviet era."
March 18 2013, 12:42