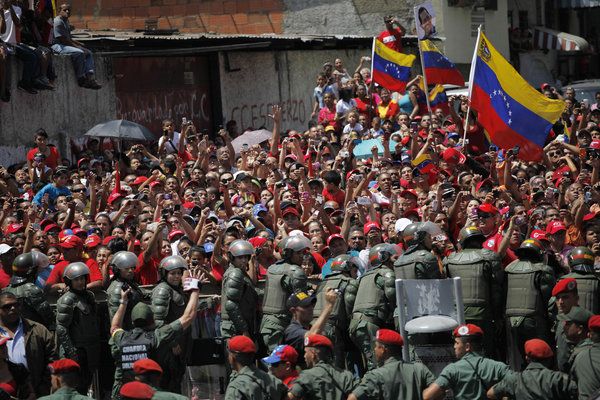 Supporters of late Venezuelan President Hugo Chavez crowd a street in Caracas to watch his coffin pass by as it is taken from the hospital where he died Tuesday. The coffin will be placed at a military academy where it will remain until his funeral. (Rodrigo Abd / Associated Press / March 6, 2013)The Obama administration Wednesday offered Venezuela a chance to rebuild its relationship with the United States after the death of President Hugo Chavez, who had long railed against the "Yankee empire."

Though the previous day Venezuela had accused the U.S. of trying to destabilize its government, administration officials said they plan to send a delegation to Chavez's funeral this week and want to soon begin a dialogue on the countries' overlapping interests.

"We would like a productive and functional relationship," a senior U.S. administration official told reporters.
The official requested anonymity, citing a routine diplomatic practice aimed at giving officials greater freedom to speak candidly.

The official acknowledged that there is unlikely to be a thaw in relations soon given the coming campaign to elect a replacement for Chavez, with candidates wanting to show that they share the anti-Americanism that is popular among his followers.

On Tuesday, Venezuela expelled two American officials for allegedly "destabilizing" the state and appeared to hint that the United States may have been responsible for Chavez's death that same day after a nearly two-year battle with cancer.
"An election campaign may not always be the best time to … break new ground on policy," the official said. And the official acknowledged that the United States may still retaliate for the expulsion of the two officials from its embassy in Caracas.

Yet the officials acknowledged that the absence of Chavez, who had an "outsized" effect on the government, held the potential for major change.

They said they saw the potential for cooperation in such areas as counter-narcotics, counter-terrorism and economic interests, including energy.

Greater engagement with the United States might also help a country that is struggling increasingly with poverty and crime, they said.
The administration tried last year to cultivate Chavez's designated heir, Vice President Nicolas Maduro, holding several phone calls and meetings with him and other top Venezuelans. But at a time when Chavez's illness was paralyzing the government in Caracas, the Americans stopped getting any response to their inquiries, the U.S. official said.

"We had not gotten very far and were not sure that the government of Venezuela wanted to continue down that road, when [Chavez's death] occurred," the official said.

Michael Shifter, president of the Inter-American Dialogue think tank in Washington, said he believed Maduro — considered by many to be the front-runner in the coming presidential election — may be open to a limited thaw in the relationship.

Maduro may, for example, agree to establishing regular communication between the two governments and exchanging ambassadors, Shifter said. He also may be open to cooperation on energy, because Venezuela's oil industry, which is the source of most of its national income, needs technical help and new investment.

But Shifter noted that the next leader would not want to go too far in a thaw because "if he's seen as embracing the U.S., it would be fatal with some sectors of Chavism."]
March 7 2013, 13:03