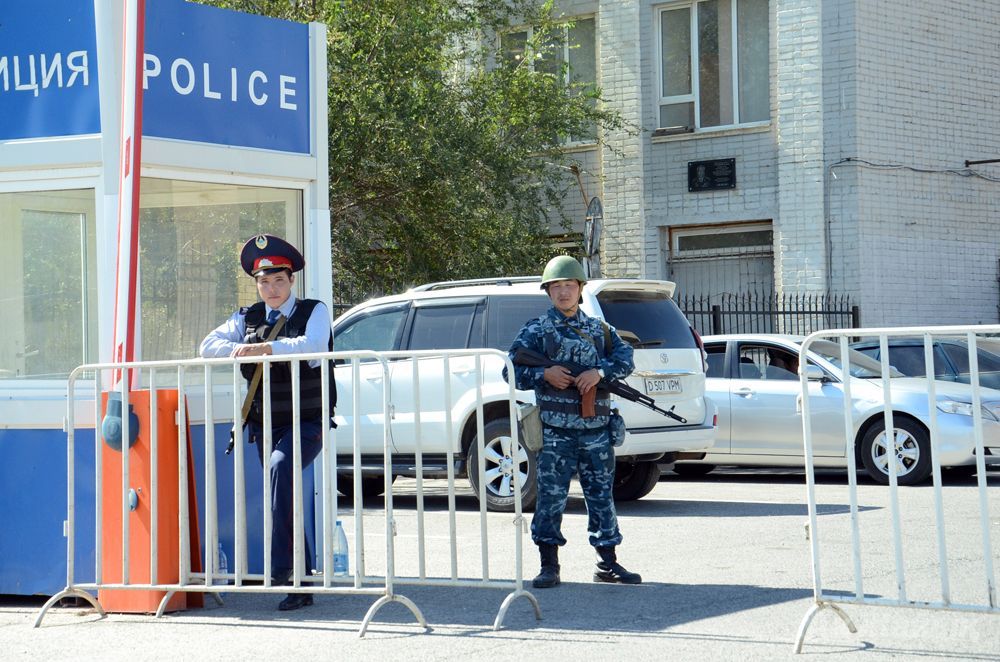 On September 15, at around 00.30 (local time) the Atyrau City Police Department was attacked.
Police cordoned the building and no information was given to the journalists arrived.
Sources in police told us that three unknown people entered the police department and opened fire upon police officers on duty, wounding one of them. The three managed to escape. According to the other, also unofficial, information, the attackers threw an explosive device into the department.
The wounded officer was hospitalized with waist and hip injuries. Judging by that he has been let go home after receiving first aid, his had light wounds, apparently, from fragments of the explosive device or traumatic gun bullets.
Another patrol officer was taken to the Oblast Hospital, after being wounded in his leg with a shotgun by unknown people, damaging his knee cap, when on duty at the Issatai-Makhambet Square, near Apartment Block 107 at Kulmanov Street. He's been operated and his condition is stable at the moment.
Interception measures are in process – all police officers have been given service weapons.
The City Police Department (Internal Affairs Department) is situated at the intersection of Satpaev Avenue and Moldagulova Street, neighbored by Atyrau Oblast KNB Department, City and Oblast Prosecutor's Offices.
By Azamat MAITANOV and Murat SULTANGALIYEV
Statement of Atyrau Oblast Internal Affairs Department
On September 14, at 23.52, two unknown people made a shot on a patrol officer at the Issatai-Makhambet Square, inflicting him wound on the leg. After the police officer responded by shooting a service weapon, the attackers escaped.
On September 15, at 00.10, two unknown people made an attempt to infiltrate into the Atyrau City Police Headquarters. They threw a petrol bomb onto the identity check point and made a shot on the guards.
After a responding shot of the officer on duty, the attackers escaped. One guard, a soldier enlisted in Troops Unit 5546, received shotgun wound.
The injured officers have been hospitalized - their conditions are now satisfactory. No victims.
A criminal proceeding has been launched. Investigative actions to determine identities and apprehend the criminals are in process.
Media Service of Atyrau Oblast Internal Affairs Department

September 15 2012, 16:25