By Laura SULEIMENOVA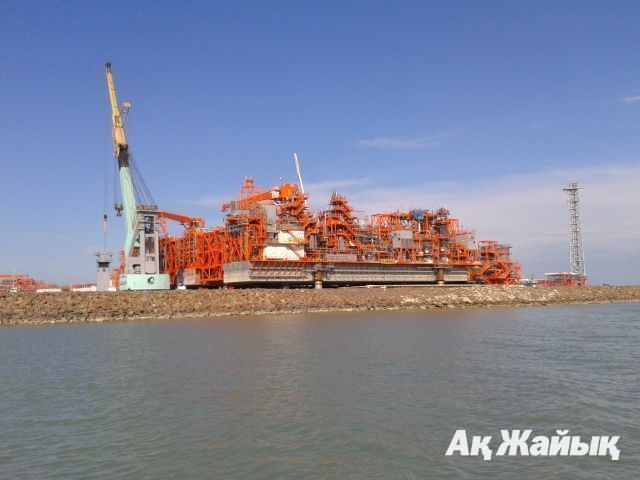 First oil at Kashagan has been postponed from March to June, said Agip KCO managing director Umberto Carrara in a meeting with Atyrau Oblast governor Baktykozha Izmukhambetov.
"We have scheduled the date in accordance with the agreement signed with Kazakhstan, stated Carrara. There are certain issues we need to work on, but we will take all possible efforts to fulfill this condition."
The governor earnestly requested the managing director to notify him of any unresolved or unclear situations in future.
He also told he intends to meet all partners of the project in late May to discuss the project's preparedness for the startup.
In late December 2012, managing director of NC Production Company B.V. (a joint venture between KMG and Shell that will operate the project in all following phases) Hans Becker assured that the production would start on the day stated.
"We have undertaken a liability before Kazakhstan's government to start production of oil in June 2013. But it will start earlier – in spring season. After launching experimental and industrial development we plan to proceed to commercial production by June. It will be giving nearly 75,000 barrels of oil a day" he said.
According to CNN Money, Kashagan has been recognized the world's most expensive [$116bn] energy project in the last 40 years.
As reported by our sources, Carrara's statement about the postponement caused discontent of NCOC - the main operator of the North Caspian project.
Once more, this demonstrates controversies between participants of the project, in particular, between Agip KCO responsible for Phase 1 [experimental program, including drilling] and NCOC.
Amid the situation, hot rumors are circulating within both companies, that NCOC will be dissoluted and replaced by a newly formed company, which Agip KCO will enter together with Shell and KMG.
In a response to Ak Zhaik's enquiry on the matter, NCOC's external communications manager Hans Wenck was brief and seemed slightly irritated:
"As we are now entering the critical phase of commissioning the facilities, we will make sure to stay focused on our core tasks and avoid distractions wherever possible."
We tried to clarify this odd situation when a contractor - Agip KCO - declares the first oil date without agreeing it with a client - NCOC, and asked Pierre Delpont, external relations director of NCOC. To a request to comment Carrara's statement about another delay of commissioning he said:
"I can't add anything. Umberto Carrara is responsible for this part of the project and the date he mentioned is Agip KCO's target. As all contractor companies report to Mr Mynbayev [oil minister], you may obtain all the information from him."
Appendix to the October 31, 2008 product share agreement provides "non-reimbursement of consortium's expenses, in the event commercial production fails to start before October 1, 2013."
In other words, after October 31, the project stakeholders will make spendings at their own expense, not on the account of future oil.
Providing this, judging by a number of evidence about a huge volume of incomplete works both on and off shore, commercial production before October is under a big question.
March 3 2013, 17:40