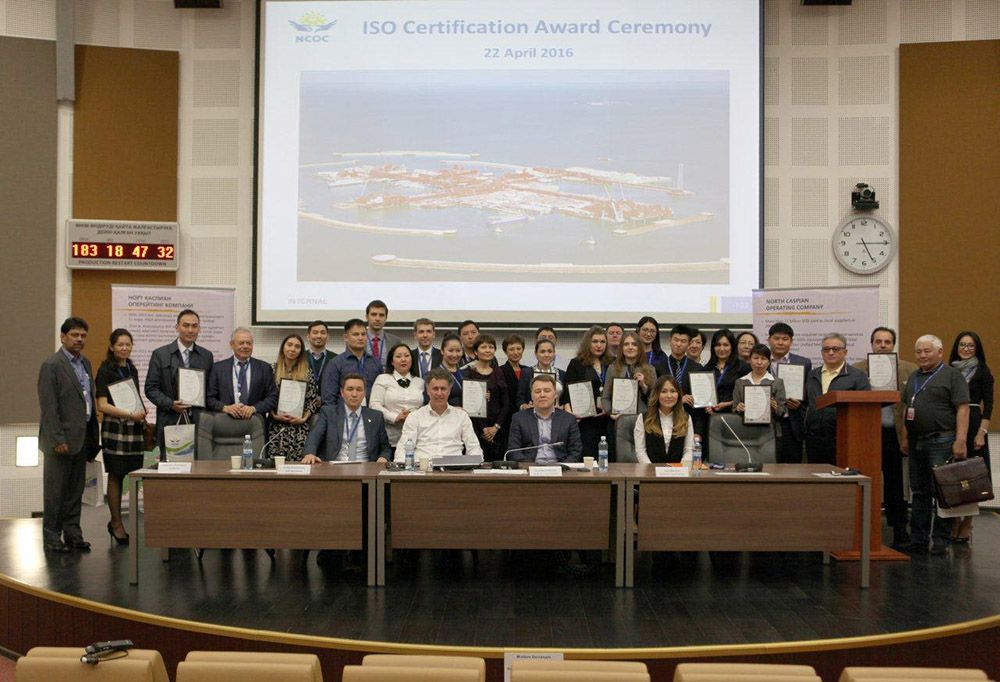 On April 22, North Caspian Operating Company N.V. (NCOC), the Operator of the North Caspian Sea Project held ISO Certification Award Ceremony to 17 local companies (ISO9001, ISO 14001, OHSAS 18001, ISO 22000). All of them successfully passed the training conducted by Quality Management Centre (QMC LLP) and were certified by Rina Services SpA Kazakhstan. Training and certification costs were covered by NCOC as part of its special long-term Local Vendor Development program.
- Key objectives of the Program include promotion of sustainable development of local companies in accordance with international standards and professional development of local manpower. Development of local content in oil and gas projects is the most important part of NCOC activity, - said DaurbekUtezhanov, NCOC Local Content Manager during the ceremony.- NCOC conducts an extensive work to supportthe growth of local vendorpotentials. The Company gives preference to local companies over foreign contractors provided that they meet criteria specified in the Production Sharing Agreement in respect of the North Caspian Sea and suggest competitive goods and services.
Implementation of ISO standards will allow, first, to improve performance and increase profitability of local companies; second, to ensure provision of comprehensive and good quality tender documents, thereby increasing the chances of companies for contract award; and, third, to ensure invaluable support during contract execution and timely delivery within the budget consistent with all technical criteria and quality requirements to full satisfaction of own customers.

Therefore, NCOC is interested in the growth of potential of local companies. ISO certificates will allow expanding the geography of their services worldwide.

This was also acknowledged by the management of local companies that have received ISO certificates.
- OHSAS 18001 is an international standard for occupational health and safety, which considerably increases the competitiveness of our company on the market, - said FedorNikolov, Deputy Director of Novus Sealing Caspian, amanufacturer of sealing materials for oil and gas industry. - We work with major local companies, and have long-standing partnership with NCOC. Today, thanks to support of NCOC covering the costs for training for our employees, we are certified to such a high standard. ISO 9001, ISO 14001, ISO 22000 and OHSAS 18001 certificates were awarded to the following plants and companies: Petropavlovsk Pipe Plant, Georgiyevsk pumping equipment plant, multi-field equipment plant, Kazelektromash LLP and others.

Since 2007 the Operator of the North Caspian Sea project has been arranging Craft Skills Training under the Improvement Program. To date, over 180 trainings were arranged and attended by nearly 2,300 employees from over 40 local companies. More than 180 local companies participated in ISO 9001, ISO 14001, ISO 22000, OHSAS 18001 and ISO 50001 certification programs. From 2006 to 2015 NCOC has conducted workshops for more than 1,000 local companies.

During further phases of development the Operator of the North Caspian Sea project intends to continue increasing the local content by encouraging the continued improvement of performance of local companies in accordance with international standards and project requirements. Thus, support to sustainable development of industrial potential and human resources of the Republic of Kazakhstan without compromising the health, safety and environmental aspects remains one of top priorities of the North Caspian Sea project.