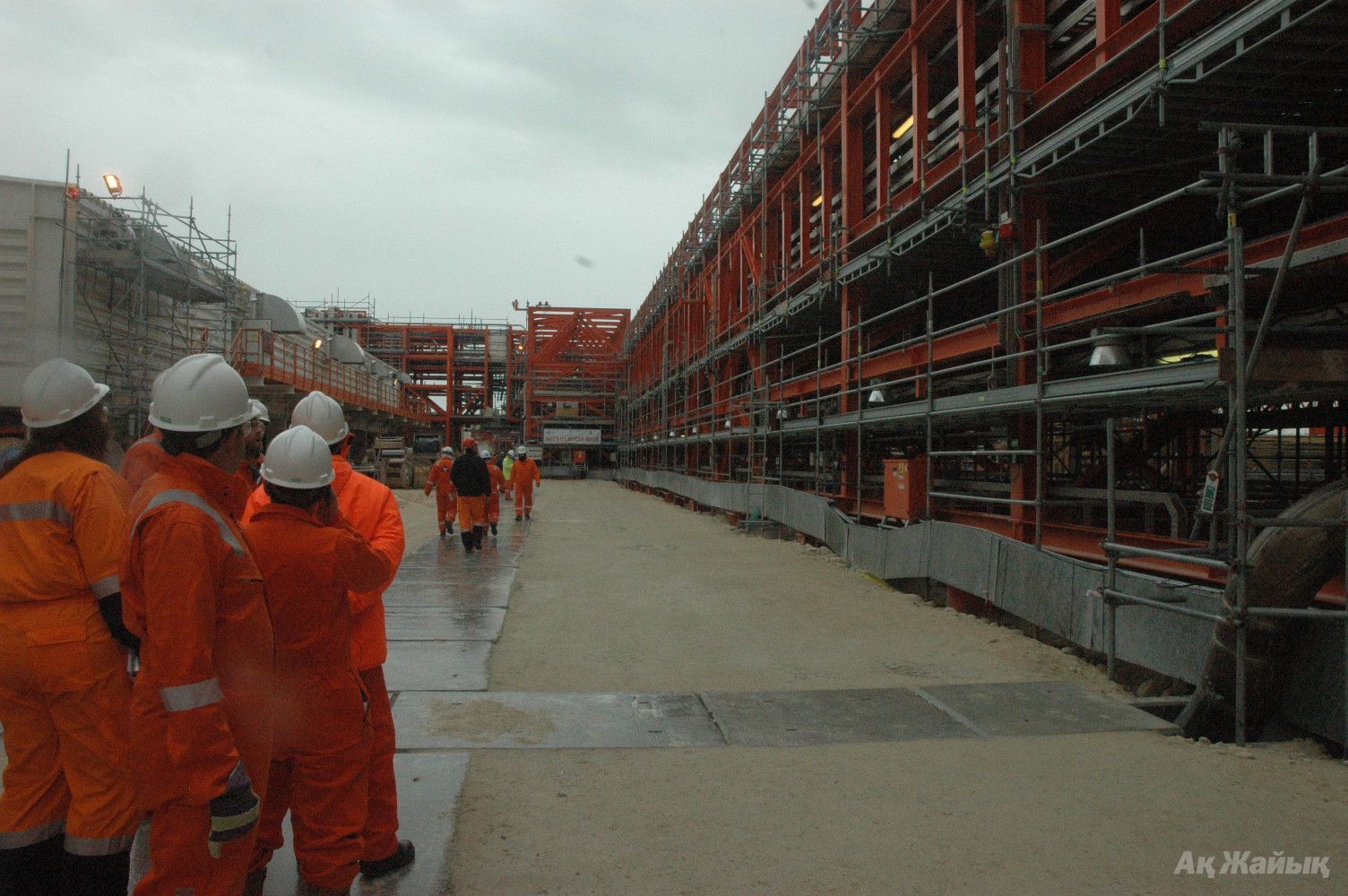 Ak Zhaik got hold of a covered up information about a group fight that took place between local and Indian workers in the morning of September 27 on the artificial island D of the Kashagan oilfield in the Caspian Sea.

According to witnesses, the conflict developed during breakfast when an Indian spilled coffee on a Kazakh, or vice versa. In the result, the expatriate worker received a severe beating and later, by helicopter, was taken to onshore hospital. Then a crowd of Kazakh workers beat nearly 15 Indians. Following this all Indian nationals refused to turn up to work.
Police forces arrived at the island. For safety purposes about 600 Indian nationals have been isolated from their Kazakh colleagues.

The media service of NCOC, the operator of the project, confirmed the fact of group fight between Kazakh and foreign employees. Yet, they refused to comment the situation until all the partner companies of the North Caspian Project approve the press release that has already been prepared.
According to our sources on D island, the conflict was not accidental. It is a quite long story. Within the last few months the number of Indian nationals in Kazmunayservice, that has been given a large contract in the project, has increased from 200 to 600, whereas local workforce is gradually being reduced to minimum. And the number of Indians is going to increase further. In average, an Indian worker is paid $600-800 a month, and a Kazakh $1300-1700. Also, Indians are less demanding of living conditions to the joy of the employer.
Allegedly, the operators of the Kashagan project have speeded up tender procedures recently. As the result companies are given very short, almost impossible-to-meet-the-schedule time to review the terms and conditions and prepare bidding documentation. Seems like the winners are known in advance. Moreover, the client prefers several smaller companies to a larger contractor. In that case, the operator doesn't have to agree the project with controlling bodies.
As you know, the date of the first oil at Kashagan have constantly been delayed. Now 'the very last deadline' is scheduled for the period between December 2012 and June 2013.

It is worth mentioning that at the Investment Forum held in Aktau on September 24-26, the representative of Kazakhstan Labor Ministry, in the presence of almost all national and expatriate top managers of NCOC, told about important easings of restrictions in the intake of foreign workforce for international companies in order to improve the investment climate in the country.

In accordance with the Government Decree #836 dd. 19.06.11, Clause 19-1 (Rules of defining quota, terms and procedures of permit issuance), companies should observe 90% Kazakh content in workforce. But, at the end of the last year the government wrote addition to delay Clause 19-1 until January 1, 2015 for subsoil users of Karachaganak, North Caspian and Tengiz projects, including operators, contractors and subcontractors.
Despite its Kazakh name (Kazmunayservice, KMS, Kashagan) the company is administered by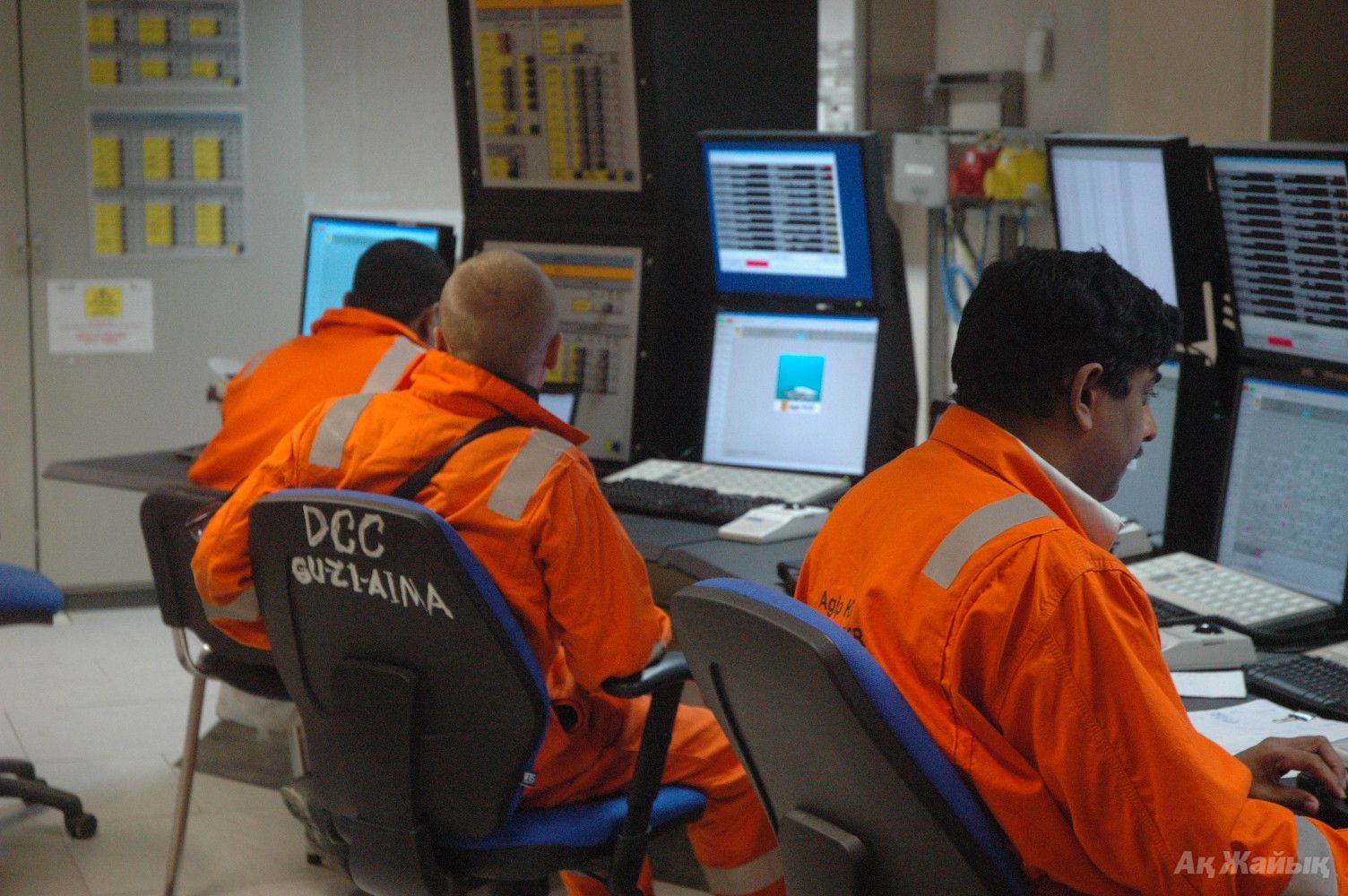 Indian managers and some Italians of lower rank. At first sight it is owned by foreigners, but as it usually happens, they probably have Kazakh associates behind seven seals.
Unofficial sources reported that Ali ASHRAF, Kazmunayservice Managing Director, has been several times seen at closed meetings and parties with the Italian managers of Agip KCO (Lead operator at Kashagan before NCOC. Now it is only supposed to complete the Karabatan plant and the construction of offshore facilities). It is rumored that they hand portfolios to each other at these meetings and clients get vacation tickets at the expense of contractors, etc.

Unlike other contractor companies such as Kentech and Tozzi, where the staff mainly consists of local nationals (as required), KMS is unlimitly hiring expatriate specialists. To be fair, our reliable sources said the Indian company performs better than the previous contractors and subcontractors - now KMS is finishing the construction of module equipment at the island and correcting their errors. This, of course, is the fault of Agip KCO managers as well - for a reason there are legends about their some fecklessness and mess in project documentation.

Previously Italian companies used to win all contracts to share them with Kazakh subcontractors. Now 40% of works are being trusted to Indians who are growing in number, thus creating social tension at the entire project because the local labourers and specialists have the same level of qualification as Indians, some are better. Let's remember the Tengiz events, when Kazakh labourers broke down to put up with discrimination of their rights and continuous humiliation by Turkish contractors, and gave them severe beating in October 2006. Hundreds of Turkish citizens rushed to leave our hospitable country then.

For reason there were rumors from the recent investment forum in Aktau that our government officials and top of national companies demonstrated their disability to negotiate with foreign investors over local content in oil projects by inviting Lord John WAVERLEY, Advisor to CEO of Kazmunaygas National Company.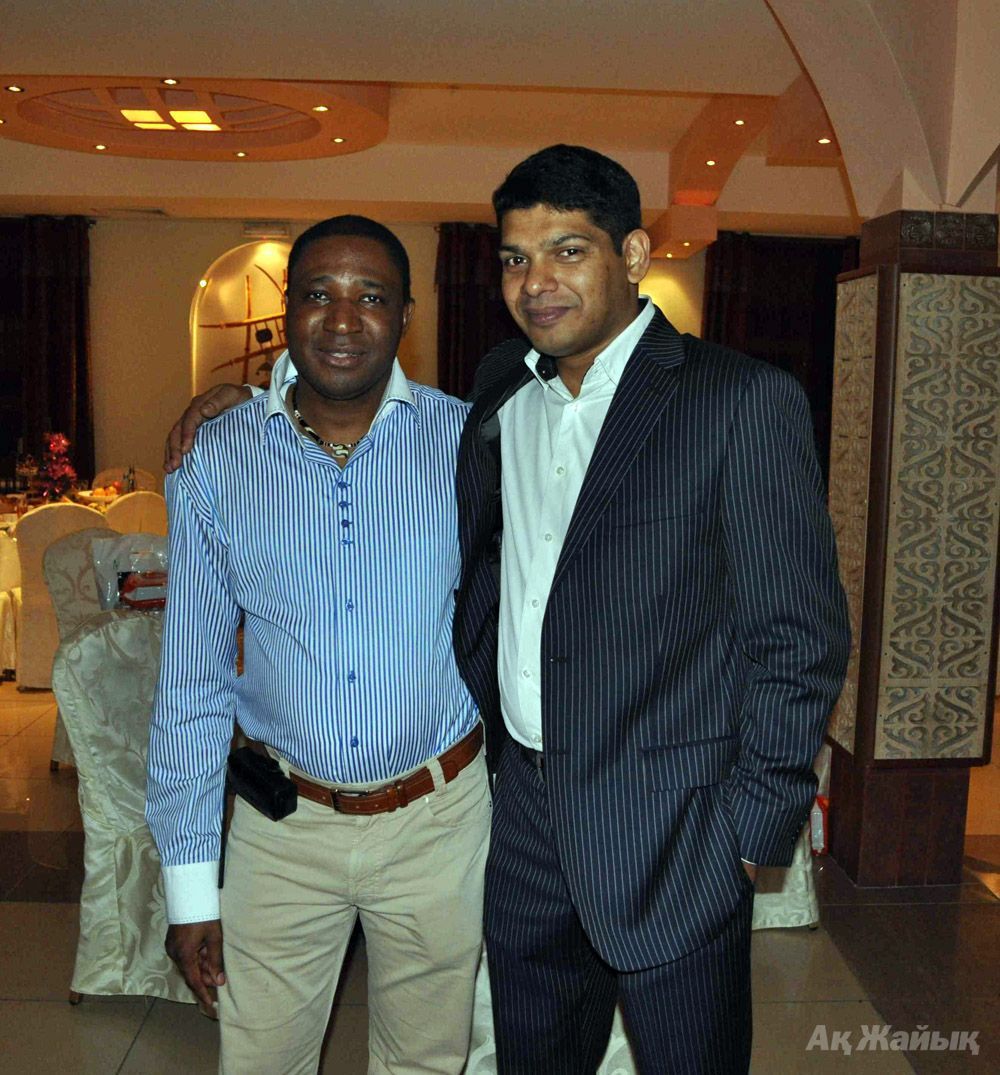 Sea Star International Technical Director Mohammed ALIBO (left) and KazMunayService Managing Director Ali ASHRAF at a new year party in Atyrau
The same sources reported that KMS is affiliated to a certain Sea Star International LLP. At the web pages of both companies we learned the two had the same phone number. An English speaking man with Indian accent picked up the phone. He became sharply alert to learn he was talking to journalists and told us to call this number on Monday. Judging by the details provided at the website Sea Star International LLP supplies power and mechanic equipment for oil and gas sector and construction in Kazakhstan and CIS countries with the head office in Almaty. By the way, Kazmunayservice started with supplying equipment as well, but soon switched to providing construction services for local companies and major contractors.

Reportedly, the greater part of Indian nationals arriving in our country does not have KZ work permit. However the recent migration police reid to the island revealed no violation, providing that in June, prosecutor's office recalled 237 work permits from KMS. Among the offences discovered there were fictitious replacement of foreign workforce with local specialists and assignment of foreign specialists to positions other than details shown in permits.
By the way, in July, an interesting comment appeared at our website: I recommend relevant bodies checking KazMunayService, a company performing electrical works at D island. They have intaken a great number of labourers from India and still continuing to attract them despite the ban on employment of non-qualified workers from abroad. Lots of young and unexperienced Hindus get experience and good money in Kazakhstan, while our own unemployed youth is playing war and grow beards. Seeing our inactivity and the mess KazMunayService has started reducing local workforce hiring Indians instead. Can you guess what would the reduced young men do after this?
Judging by the latest incident at D island, the June audit of the prosecutors was not effective.

By Laura SULEIMENOVA